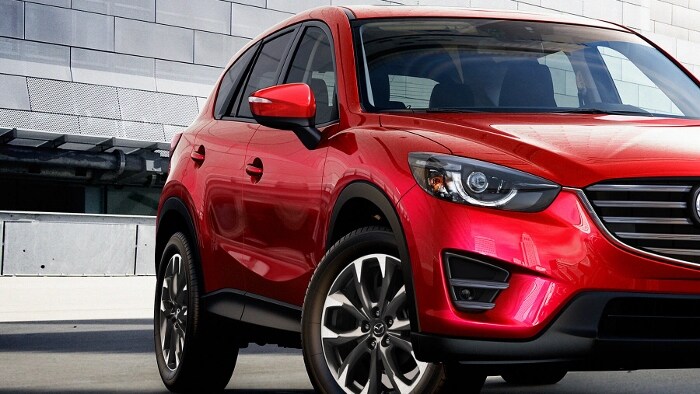 When does two plus two equal more than four? When you're driving a four-wheel drive equipped Mazda SUV or crossover vehicle like the 2016 Mazda CX-5 from All American Mazda!
Most cars come equipped in a pretty standard, pretty typical front-wheel drive configuration: the engine sits at the front of the car, along with the drive wheels. Front-wheel drive vehicles give you great traction and handling, and often offer more leg room in the back for passengers because of the absence of a driveshaft taking up space along the center of the car, among many other terrific benefits.
Four-wheel drive vehicles can present many possibilities, however, that their two-wheel drive or front-wheel drive counterparts are not as well-equipped to provide. For example, outdoor and off-road adventures are easier to find and explore when you've got four wheels working for you instead of two. With all four wheels channeling engine power down onto the driving surface below you can exploit the extra gripping power to take you just about wherever you would like to go, from slick and slippery, uneven roads and streets, to gravelly and rocky, wet and sloppy paths and trails.
Mazda makes several outstanding crossover and SUV models that feature available four-wheel drive or all-wheel drive systems, such as the 2016 Mazda CX-5 available from our
Mazda dealership near Lakewood, NJ
. The 2016 Mazda CX-5 comes standard in a front-wheel drive configuration. It's also available equipped with an advanced i-ACTIV AWD® All-Wheel Drive system that can predict when you may need the gripping power of all four wheels. It checks the temperatures and conditions around you and assesses your driving behavior to determine which wheels need power and torque to maintain and enhance traction.
If you love the outdoors and adventures way off the beaten path and you're searching for
new Mazda cars for sale
that can help you reach those faraway destinations you seek, then be sure to stop in today to check out our inventory. Remember, unlike math and arithmetic which say that two plus two equals four, when you've got four wheels working for you instead of two in a Mazda SUV or crossover like the 2016 Mazda CX-5, the benefits can be exponential!