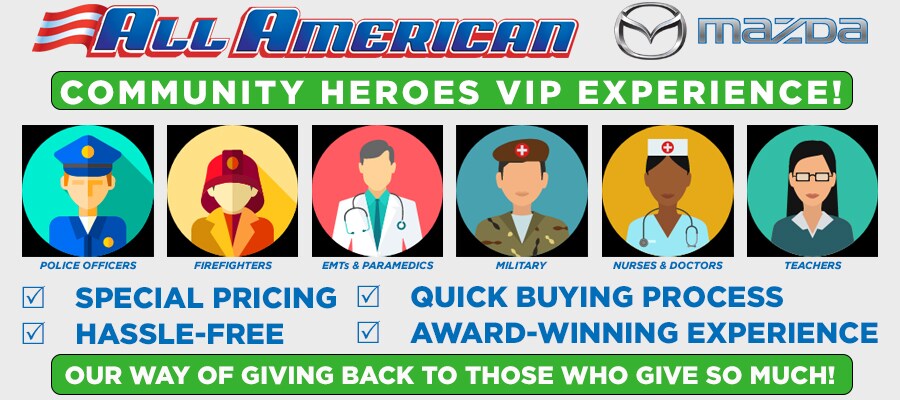 All American Mazda in Brick THANKS all of our community heroes for serving our local area!
Our local community heroes give so much to our area and its residents that we want to do our small part in giving back to you! All of our customers receive an award-winning experience when they choose All American Mazda, but we want to go the extra mile for those specific community heroes and offer special pricing & easy financing. 
To give back to Police, Firefighters, EMT & Paramedics, Military Personnel, Nurses, Doctors and Teachers in our community, would be a great honor for us. That's why we're making a commitment to special pricing, a quick buying process, hassle & stress free shopping and of course our award-winning customer experience.
When you arrive at the dealership, make sure you mention that you're a community hero. Bring your badge, ID or personnel number -- in some cases, there may be extra rebates and incentives we can help you take advantage of through Mazda with this proof of identification. Our goal is to save you time and money and deliver the best buying or leasing experience that you've ever had.
As a family owned & operated company that gets heavily involved in the communities in which we do business, we hope you give us the opportunity to earn your business and give back to YOU!
Contact us at any time via email (from the form on this page), phone call, chat or text. We want to do business with you the way you want to do business with us. If a new vehicle is not in your plans, keep in mind we have two amazing money-saving options right now:
Mazda Executive Demos
and our
MOTOR TREND Certified Vehicles
.
The Mazda Executive Demos provide an opportunity to purchase a new vehicle with very low miles and well maintained, for a fraction of the cost. Our MOTOR TREND Certified Program recently launched and we're only 1 of 40 certified dealerships in the U.S. The program is like none other in the industry and others incredible savings and benefits on certified pre-owned vehicles.